Epoxy Basement Floor Installers in Atco, New Jersey
Some homeowners may have encountered moisture issues in their basements and don't know what they can do about it. Fortunately, our epoxy basement floor installers in Camden County, NJ, are ready to help. Our technicians will use specialized coatings that bond the polyaspartic materials to the cement, so you won't have to worry about these problems reoccurring.
Moisture damage remains one of the leading causes of cracks in concrete. When you apply a coating to the top level of your floor, you can help prevent pervasive water damage and prolong the life of your slabs.
Polyaspartic coatings directly increase value and durability that exceed those provided by epoxy flooring. Additionally, the installation time is reduced when using polyaspartic flooring.
Polyaspartic flooring might be installed quickly, but that doesn't mean it won't last a long time. The flooring should last more than a decade, if not multiple decades. In fact, many professionally applied polyaspartic floors come with 10- or 15-year warranties.
Our basement floor installers in Camden County, NJ, have helped countless residential and commercial clients give their basements the level of protection they need to hold up for the long haul. Our service area includes the following NJ communities:
Cherry Hill
Haddonfield
Medford
Moorestown
Mount Laurel
Voorhees
Metallic Epoxy Floor Installation
The materials you choose directly impact the longevity and durability of your basement floors. One of the sturdier materials you can choose is metallic substances that provide a solid foundation for your basement setup. To give your metallic floor a fighting chance to last for as long as possible, you need the best basement floor installers in Camden County, NJ, to handle the job.
We work with our customers to figure out how to handle their polyaspartic basement floor installation and ensure everything goes as smoothly as possible. We'll analyze your layout, determine how much material you need, and perform the installation quickly and efficiently.
The most experienced epoxy garage floor coating applicator in the New Jersey area.
What our customers are saying:
"Fantastic, I'm totally blown away by my Polyaspartic Flooring." - Jack F.
"The service was excellent." - Brunhilde N.
"Our new Polyaspartic Flooring has completely surpassed our expectations." - Gates V.
"We were back to work in no time!" - Sally B.
Residential - Before and After Transformations
Move the Slider Left to Right to see the Transformation
Epoxy Basement Floor Installers in Winslow Township, NJ
Whether you have a metallic or concrete basement floor, choosing the right coating can have far-reaching ramifications for your property. You want a team that knows which coating materials provide the best combination of aesthetics and protection. That's where our epoxy basement floor installers can help!
We specialize in identifying what material works best for your existing or incoming flooring and provide the essential protection you need to keep your basement in good condition. Whether it's purely for storage or you have bigger ambitions for your basement, we can ensure yours is ready for whatever you have in mind!
Water Resistant Basement Floors in Camden County, NJ
One of the biggest dangers facing your basement revolves around water infiltration that can cause lasting structural damage. Protecting your property from potential water damage starts with installing water-resistant basement floors, and we're here to help!
Our approach to polyaspartic basement floor installation ensures your property has the necessary protection from potential water damage, no matter the source. From floods to spills and unexpected pipe ruptures, your new water-resistant basement floor will be able to withstand whatever running water comes its way.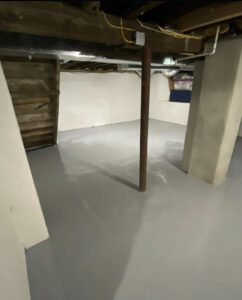 Single Color Epoxy Moisture Barrier
Get Your Free Quote From the Best Epoxy Basement Floor Installers in Winslow Township, NJ, Today!
Whether you need a new epoxy basement coating or want to make your property more water resistant, you want to ensure you get the right team for the job. East Coast Garage Floors has helped countless residential and commercial customers find the ideal flooring solutions for their properties. We have provided expert basement and garage floor coating throughout the state, including Cherry Hill, Haddonfield, Medford, Moorestown, Mount Laurel, and Voorhees, NJ.
Contact us to get your free initial quote and schedule your first appointment today!